Goodbye my sweet little angel...
It was October 19, 2006 and I entered an American kennel. You immediately caught my eye, and I just hád to go to you first. I dropped everything I had in my hands, kneeled down next to your crate and started crying... There you finally were, the Lhasa Apso girl I had been waiting 20 years for, and you were everything I had always dreamed of...
We connected immediately, like we already knew each other for many years. We only had to look at each other to know what the other one was thinking, without any words. For ten days I kept you close to me, I didn't want to waste any time and spend all the time I had while being there with you. When the day came I had to go home again I cried so badly because I could not take you home with me. With pain in my heart I said goodbye to you, and went home alone, feeling very lonely...
I had to wait for over four months until you would finally come home to me, and it seemed that those months lasted a life time. Three times a week I called to the US, asking for the phone to be put in the crate with you and then I talked to you. On March 7th 2007 you finally came home! Again I cried, but this time I cried happy tears when I took you in my arms at Schiphol Airport. We went home where you explored the house. You jumped on the sofa and looked at me as if you wanted to say - Hey, finally home!
You arrived in poor condition, you were skinny and your beautiful coat was completely damaged. With your eyes you told me that you had full confidence in everything being fine now, because we were finally together again.
On June 16th 2007 we went to our first show. Marion asked me if she could groom you for your debute and without any doubts, you looked stunning. I was so proud of you when we entered the ring! You didn't like it at all, refused to move one single step and I wondered why. Lots of shows followed, in the Netherlands and abroad, and before we went into the ring I always wondered: will she show? I never understood why you acted like this, and blamed it on the poor socialisation you had when you were a puppy... But, whén you showed, you showed like a dream and were flying through the ring! Oh...how much I enjoyed those moments..!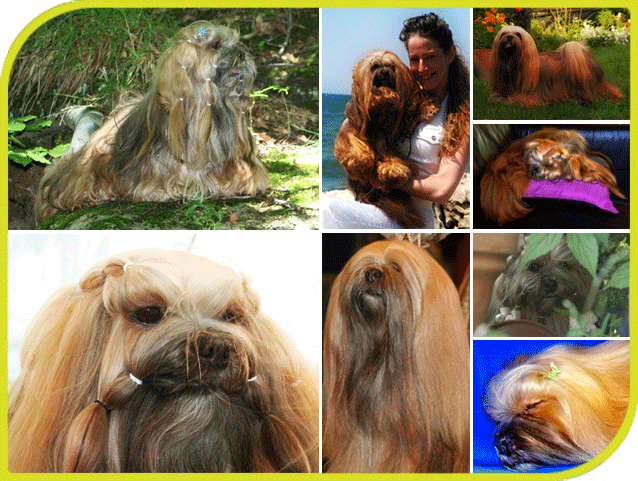 Last november you got in season, two and a half months too early. I wanted to breed you, because then there would be enough time to go back to Slovenia and Croatia in the summer to finish your championships over there. On November 21st you and Basil (the most suitable daddy to your future babies) decided it was time to mate, and with excitement I was awaiting the day we would go for an untrasound. But I could not get rid of this little voice in my head, telling me that something would go terribly wrong and I would have to miss you in the end...
The last week of your pregnancy was tough, you kept looking at me with your beautiful eyes and I felt something was wrong. All sympthoms were pregnancy related, even the vet could not find anything unusual during two seperate visits.
On January 19th the delivery started. Jessica came to help, and from the beginning it was a very slow and difficult process. You were lying on my bed, very quite, and each baby was born with pain. You kept looking at me, and I kept talking to you and kiss you, telling you that everything would be all right, while I new deep down in my heart that this was not going to be the case...
You gave birth to seven babies, all so beautiful, and at five in the morning you looked at Jess and me with proud and sparkling eyes as if you wanted to say: see mom, we cleared the job! I was so happy we made it this far...
I took you upstairs again and groomed you, and put you with your babies at 05.15. I told you that you could rest now, and go to sleep. Jess came and hour later to tell she was going home and she checked on you. She found you sound asleep next to your babies. At 07.30 I woke up from a strange noise, rushed out of bed and picked you up. I immediately called the vet and rushed downstairs with you. I felt life slipping away, and a feeling of desperation and deep deep sorrow came over me. Despite all the attempts to reanimate you slipped away in my arms, leaving me behind in total despare...
Now that I know why you had to go, I can only have warm feelings of deep admiration for you. You must have known you could not stay here much longer and I'm convinced you wanted to leave something behind when the time had come to say goodbye. You were so determed to carry your babies until they could survive and you entrusted them to me. This was a gift of love, and I'm very very gratefull for this gift. You will live on in your children, who will all be cherished and who will always remind us of you.
Sweet little Pressie, you were my life, my everything... You will forever live on in my heart and the wonderful memories of you which I cherish. There will never be another girl like you... I will miss you terribly, but I am gratefull for the two years we shared and all the wonderful moments we had together. Goodbye my little brave sweet girl...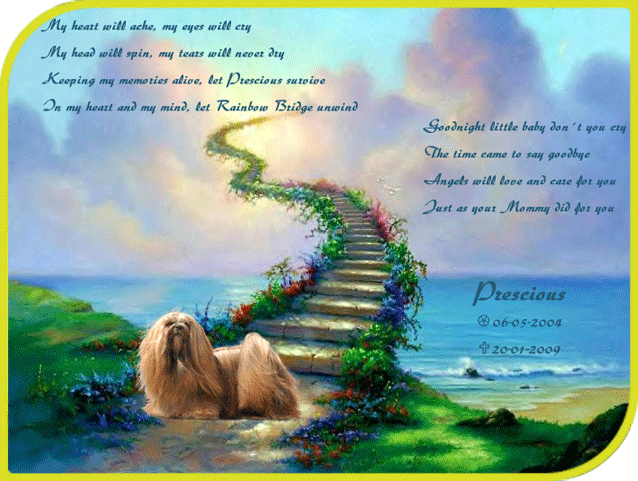 Some words of thanks are definatelly in place here. After Pressie passed away I recieved so many calls, emails, photos, poems and flowers from people all over the world. I never knew I had so many friends who were sharing in my sorrow... Thank you all so much, all has been a great comfort...
Very special thanks go to Jessica Geraerts and Marion Radstok.
Jessica (who was one of Pressie's very special friends) was here when Pres was delivering, and it is due to her help that all babies got a good start. Jess wasn't even home yet when she heard Pres had passed away. She turned around and came back to me to be there for me, and she still is always there for me...
Marion called me while I was performing CPR on Pres, and was in total shock after hearing what was happening. She immediately picked up her bitch Samurai, who had 7 weeks old puppies, and came to me with Samurai. Marion and Jessica took over when they arrived at my home, I was totally numb and could not even think clear. She and Jessica made Samurai accept Pressie's babies. Marion took Samurai and Pressie's babies home, and raised them with so much love and care until they were 5 weeks old and ready to come home. She saved the lifes of our little Presils...
Thank you also to my sissy Vesna, who knew how much I needed her during those days. After she heard what had happened she picked up Simona Stackne and together they made the long trip to me. Vesna and Simona stayed for 6 days, helping me through the first days without my little angel... Vesna and I met Pressie together, we picked her up at the airport together, and now we said goodby to her together. The circle is closed now...
After Pres had passed away my vet performed an authopsy. The authopsy showed Pres had suffered from a major stomach ulcer (probably a duodenal ulcer, because she always ate and drank well) which she most likely already suffered from when she arrived here. She explained that this is why I never noticed any behavior changes. The stomach ulcer symptoms which Pres showed in the last week of her pregnancy can easily be confused with pregnancy symptoms. According to my vet it had taken a long time to reach this stage of stomach ulcer, because her whole stomach was already affected. Had she not been bred, she wouldn't have survived either. It had gotten to a stage at which it couldn't be cured anymore. Her stomach ruptured during the delivery, causing immediate blood poisening. My vet explained that after I had put her with her babies at 05.15 she went to sleep, and slowly slipped into a coma. When Jess checked on her at 06.15 she was already in coma, and the noise which woke me up were her final breethings...
I also want to thank the vets at animal clinic Tusken Diken en Feanen. Frank, who examined Pres and gave her medication to feel more comfortable and without pain during her last days. Dirk, who I called and who was here during the delivery, treating Pres again later in the evening, trying everything he could to let her have a more smooth delivery. Ineke, who came on Tuesday morning and stayed with me for hours after Pres had passed away, to support me. Linda, who performed the autopsy, and who took so much time to explain what had happened.